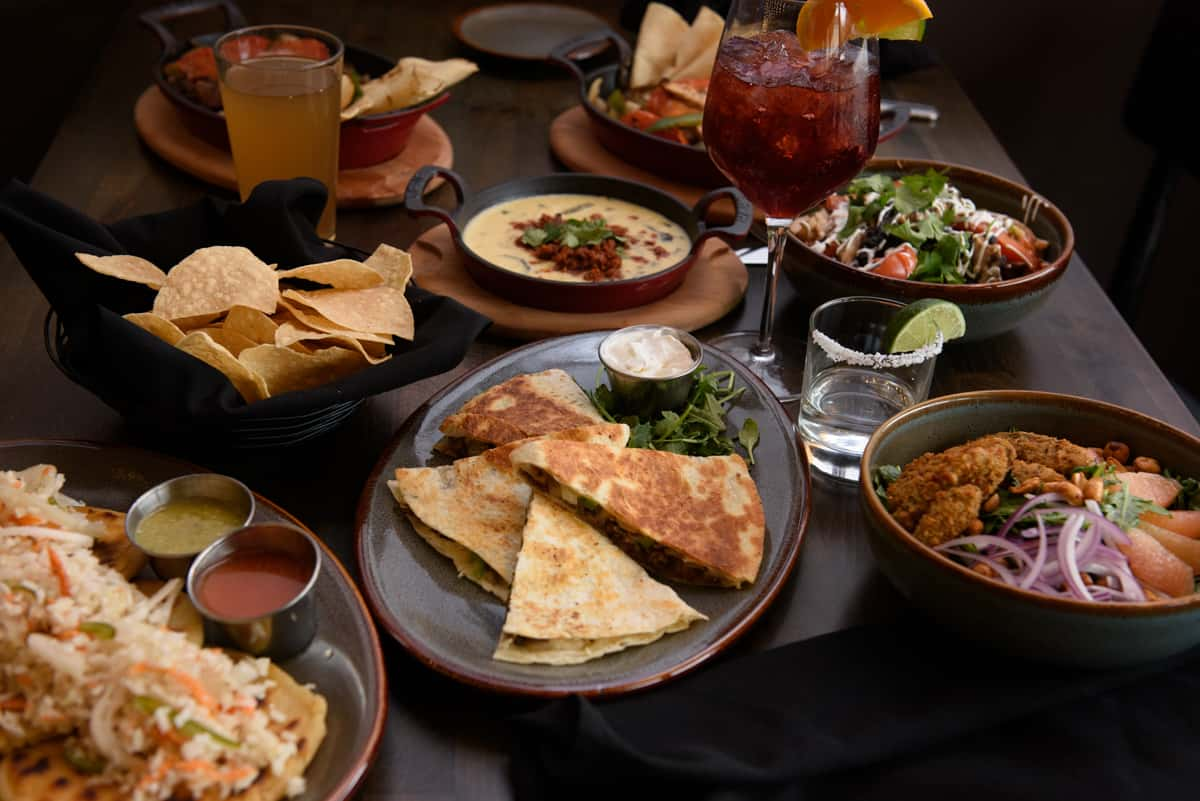 Bar Menu
Become a VIP
Receive updates on special events, new menu items, menu reviews, and more!
Bar Menu
Specialty Cocktails
Make your cocktail with Don Julio Silver for only $4 more!
Draft Beer
Flying Dog Numero Uno
Cerveza- 4.9% ABV 
When looking for an easy-drinking agave cerveza, Numero Uno is...well, numero uno. Originally pitched as part of our limited release Brewhouse Rarities program, this beer proved so popular among Mexican lager drinkers, it made the jump into our year-round line-up. Light and straw-colored, this mucho refreshing lager brings bold, bright lime zest flavor and a crisp, clean finish that pairs well with nachos and sunburn. Best of all: no requiere playa.
Evolution 'La Piña' Pineapple IPA
IPA - 6.8% ABV
A tropical take on our classic American IPA, our pineapple IPA packs a tropical fruit flavor with juicy hop character. Brewed with loads of pineapple juice and aggressively hopped to contribute big tropical and citrus notes. After garnering much acclaim in our taproom and brewpub we bring this beer to our fans across the region.
Bottled & Canned Beer
Featured Craft:
2SP Tacocat Pale Ale - $10
Aslin Brewing Esperante Mexican Lager - $10
'Merican Mule Mexican-Style Mule - $10

Corona Extra $6
Corona Light $6
Dos Equis $6
Dos Equis Ambar $6
Imperial $6
Modelo Especial $6
Modelo Negro $6
Pacifico $6
Presidente $6
Sol $6
Tecate $6
Bohemia $6,
Carta Blanca $6

Blue Moon $6
Bud Light $5
Coors Light $5
Heineken $6
Amstel Light $6
Miller Lite $5
White Claw $6
Yuengling $5

Heineken N/A $6
Wine
White
Seaglass Sauvignon Blanc - $8/glass
Bonterra Chardonnay - $9/glass
White Sangria - $8/glass

Red
Murphy-Goode Pinot Noir - $8
Cosentino "The Cab" Cabernet Sauvignon - $9
Red Sangria - $8/glass
Mexican Sodas and Beverages
Mexican Coca-Cola $3
Jarritos Mexican Sodas $3
-Mango, Guava, Tamarind, Citrus, Grapefruit

Soft Drinks and Sodas $3
-Sprite, Coca-Cola, Diet Coke, Ginger Ale, Ginger Beer, Fruit Punch, Lemonade, Orange Juice, Cranberry Juice, Unsweetened Iced Tea

French-Press Coffee - Mexican Chiapas blend from Gracefully Coffee Roasters - $3.50
Mezcal
5 SENTIDOS BICUIXE MADRECUIXE
Mezcal • Oaxaca
Pour $28

5 SENTIDOS MEZCAL ESPADIN
Mezcal • Oaxaca
Pour $26

5 SENTIDOS MEZCAL ESPADIN TOBAZICHE
Mezcal • Oaxaca
Pour $28

5 SENTIDOS MEZCAL PAPALOMETL
Mezcal • Oaxaca
Pour $28

5 SENTIDOS MEZCAL SIERRA NEGRA
Mezcal • Oaxaca
Pour $28

5 SENTIDOS MEZCAL TOBALA
Mezcal • Oaxaca
Pour $30

AGAVE DE CORTES JOVEN MEZCAL 
Mezcal • 40% • Santiago, Matatlan
This gorgeous 100% Espadin bottling is easily one of the best in the category. Well
rounded and accessible notes include fragrant wood smoke, fresh herbs, sweet
limes, tropical fruits and white pepper.
Pour $10

CASAMIGOS MEZCAL JOVEN 
Mezcal
Extremely smooth, small-batch mezcal with the perfect smokiness and easy to drink.
Pour $17

DEL MAGUEY CREMA DE MEZCAL 
Mezcal • 40% • Mexico
Crema de Mezcal, is a combination of Miel de Maguey (unfermented syrup of the
roast agave) and Mezcal San Luis del Rio – double distilled from 100% mature
agave Espadin, produced the original, natural 400-year-old, hand-crafted way.
Pour $9

DEL MAGUEY VIDA DE SAN LUIS DEL RIO 
Mezcal • 42% • Mexico
Launched in 2010, it is highly mixable and has arrived to much anticipated industry
acceptance and high bartender demand. Hand crafted, it is twice distilled, very
slowly in small wood-fired, riverside copper stills to flavor specifications that
underscore its versatility in cocktails.
Pour $9

DERRUMBES MEZCAL DURANGO
Mezcal • 45% • Mexico
Derrumbes Durango is made with maguey Cenizo (agave Durangesis)
in Nombre de Dios, Durango. More and more mezcals continue to
come out of Durango, and Nombre de Dios is establishing itself as a
mezcal stronghold in the state.
Pour $16

DERRUMBES MEZCAL MICHOACAN
Mezcal • 45% • Mexico
Derrumbes Michoacan is made with maguey Cupreata, which brings
mature fruit aromas, and maguey Alto (agave Inaequidens) which
brings more herbal notes.
Pour $20

DERRUMBES MEZCAL OAXACA
Mezcal • 48% • Mexico
Derrumbes Oaxaca is made with agave Espadin. The agave is cooked
in an underground stone pit using black oak to give a light smokiness,
which complements the mineral and fruit notes of the Espadin agave
from which it is crafted.
Pour $14

DERRUMBES MEZCAL TAMAULIPAS 
Mezcal • 52% • Mexico
Derrumbes Tamaulipas is one of the few mezcals exported from Tampaulipas.
Unfortunately, this region of Mexico is considered extremely unsafe and travel
warnings were issued in 2016 and 2017 warning visitors to the state of it's grave
danger.
Pour $18

DERRUMBES MEZCAL ZACATECAS
Mezcal • 48% • Mexico
Derrumbes Zacatecas is made with agave Tequilana Weber, which is
also commonly known as blue or azul agave. This agave is well known
for it's use in tequila, and the town of Huitzila, Zacatecas, where this
mezcal is made, is very close to the Tequila Valley.
Pour $14

DERRUMBES MEZCAL DE SAN LUIS POTOSI 
Mezcal • 44% • Mexico Pour $9

EL JOLGORIO BARRIL 
Mezcal • 47% • Oaxaca, Mexico
El Jolgorio Barril uses the maguey Barril, which is part of the Karwinskii agaves that
grows wild or in a semi-cultivated environment. The Barril piña is dense with sugars
and very little water, which results in a Mezcal of great complexity.
Pour $30

EL JOLGORIO PECHUGA 
Mezcal • 47% • Oaxaca, Mexico
El Jolgorio Pechuga is made using two distillations. During the second distillation,
the mezcalero adds locally harvested fruit and spices, like pineapple, orange, and
plantains.
Pour $35

EL SILENCIO ESPADIN 
Mezcal • 43% • Oaxaca, Mexico
El Silencio Espadin is made with agave Espadin from master mezcalero Pedro
Hernandez. It's handmade in small batches, and is designed for high-end use in
mixology. It's ok as a sipping mezcal, but it's really made to be used in mixed drinks.
Pour $9

EL SILENCIO JOVEN 
Mezcal • 46% • Oaxaca, Mexico
El Silencio Joven is a blend made with maguey Mexicano, Tobasiche, and Espadin.
El Silencio is yet another brand with mezcal engineered by master Mezcalero Pedro
Hernandez. He makes some other fantastic mezcal for other brands as well.
Pour $18

FIDENCIO JOVEN CLÁSICO 
Mezcal • 45% • Oaxaca, Mexico
Fidencio Clásico is distilled twice in a traditional, wood fired, simple Alembic still.
This still is very similar to the stills used in Cognac. This Mezcal is made by
mezcalero Enrique Jimenez in Santiago Matatlán, Oaxaca. This Mezcal has a
delicate taste of wood smoke and green pepper scents.
Pour $10

FIDENCIO MADRECUIXE 2015
Mezcal • 45% • Oaxaca, Mexico
Fidencio Madrecuixe is made with wild maguey Madrecuixe. This wild
agave is harvested after 12-15 years of growth and pit roasted over
black oak for five days then double distilled. Mezcalero Enrique
Jimenez makes this Mezcal in Santiago Matatlan, Oaxaca.
Pour $32

FIDENCIO TEPEXTATE 2014
Mezcal • 48% • Oaxaca, Mexico
Fidencio Tepeztate is made from 100% wild agave Tepeztate that is
harvested after 14-18 years of growth. This Mezcal is both complex
and balanced with notes of jalapeño and candied fruit.
Pour $24

FIDENCIO UNICO
Mezcal • 40% • Oaxaca, Mexico
Fidencio Unico is distilled in a custom, wood fired, Alembic still that was custom
designed by their mezcalero, Enrique Jiménez. It is distilled twice and then bottled.
This Mezcal is slightly sweet with subtle aromas of charcoal, green apple and pear.
Pour $10

ILEGAL JOVEN
Mezcal • 40% • Mexico
Ilegal Joven is unaged, which sets it apart from Ilegal reposado and Ilegal anejo
which are aged. It has deep agave aromas, and hints of green apple, citrus and
white pepper. There is a lingering heat and sweet agave feel. This Mezcal is ideal
for cocktails and perfect to be sipped on its own.
Pour $11

ILEGAL MEZCAL REPOSADO 
Reposado • Mexico
Velvety throughout. An exceptional drinking mezcal. Aged for four months in
medium-charred American Oak. Caramelized pear and bitter orange on the nose.
Clove, butterscotch, and hints of vanilla on the palate.
Pour $14

KOCH ESPADIN
Mezcal • 47% • Oaxaca, Mexico
Koch Espadin is made with 100% farm-grown agave Espadin in San Baltazar. This
mezcal is made by mezcalero Pedro Hernandez. It has sweet, fruity tones and a light
taste of coconut mixed with herbs and spices.
Pour $17

LA HIGUERA CEDROSANUM (SOTOL) 
Mezcal • 48% • Chihuahua, Mexico
Sotol La Higuera Cedrosanum is produced in Aldama, Chihuahua by Master Sotolero
Gerardo Ruelas. The sotol plants are cooked in an outdoor conical oven and then
milled by hand with axes.
Pour $11

LA HIGUERA LEIOPHYLLUM (SOTOL) 
Mezcal • 47.3% • Chihuahua, Mexico
Sotol La Higuera Leiophyllum is produced in Aldama, Chihuahua by Master Sotolero
Gerardo Ruelas. The sotol plants are cooked in an outdoor conical oven and then
milled by hand with axes.
Pour $11

LA HIGUERA WHEELERI (SOTOL) 
Mezcal • 48% • Chihuahua, Mexico
Sotol La Higuera Leiophyllum is produced in Aldama, Chihuahua by Master Sotolero
Gerardo Ruelas. The sotol plants are cooked in an outdoor conical oven and then
milled by hand with axes.
Pour $9

LOS JAVIS ESPADIN JOVEN 
Mezcal • 40% • Santiago Matatlan, Mexico
Los Javis Espadin is made with agave Espadin in Santiago Matatlan, Oaxaca. The
agave used to make this mezcal were roasted in an underground oven, crushed by
horse drawn tahona, fermented with open air yeasts, and double distilled in a
copper pot still.
Pour $9

LOS JAVIS ESPADIN REPOSADO 
Mezcal • 40% • Santiago Matatlan, Mexico
Los Javis Reposado is made with agave Espadin in Santiago Matatlan, Oaxaca. The
agave used to make this mezcal were roasted in an underground oven, crushed by
horse drawn tahona, fermented with open air yeasts, and double distilled in a
copper pot still.
Pour $9

LOS VECINOS DEL CAMPO ESPADIN 
Mezcal • 45% • Oaxaca, Mexico
Los Vecinos del Campo Espadin is produced in the Valles Centrales region of Oaxaca
by a group of 10 master mezcaleros. This mezcal is spicy up front and moves quickly
to tropical fruits, ginger, and roasted peppers.
Pour $8

NUESTRA SOLEDAD SAN LUIS DEL RIO 
Mezcal • 47.9% • OAXACA, MEXICO Pour $12

NUESTRA SOLEDAD SANTA MARIA ZOQUITLAN 
Mezcal • 46% • OAXACA, MEXICO
Nuestra Soledad Santa Maria Zoquitlan is made in Santa Maria Zoquitlan from
100% agave Espadin. This mezcal is made by mezcalero Jose Parada Valera, and it
has hints of lemon zest, red pepper, and tropical fruit. It has a strong, pronounced
finish.
Pour $13

PALENQUEROS ESPADIN - SIERRA NEGRA
Mezcal • 50% • Oaxaca, Mexico
Palenqueros Espadin – Sierra Negra is produced by Don Baltazar Cruz
Gomez at his palenque in San Luis del Rio, Oaxaca. Don Balta has
been producing for many years and has been bottled by several
different exported brands. His signature flavor notes and texture seem
to shine in each one of them.
Pour $20

PALENQUEROS OMAR NOLASCO ESPADIN
Mezcal • 55% • Oaxaca, Mexico
Palenqueros Espadin is made by maestro mezcalero Omar Nolasco in
San Luis del Rio, Oaxaca. Omar represents the bright future of mezcal.
He's a young fifth generation distiller who works to preserve the
traditional methods of mezcal production.
Pour $20

PALENQUEROS ONOFRE ORTIZ ENSAMBLE CINCO MAGUEYES
Mezcal • 48% • Oaxaca, Mexico
Palenqueros Ensamble Cinco Magueyes is made by fifth generation
Maestro Mezcalero Onofre Ortiz with maguey Espadin, Mexicano,
Madrecuishe, Bicuishe, and Tepeztate. Onofre is the son of legendary
mezcalero Alberto "Don Beto" Ortiz.
Pour $20

PALENQUEROS VALENTE GARCIA MEXICANO
Mezcal • 49.5% • Oaxaca, Mexico
Palenqueros Mexicano is made by maestro mezcalero Don Valente
Angel in his tiny community of Santa Maria La Pila. The nose and the
palate of this mezcal are full of fresh plants like sage and eucalyptus
with a light veil of smoke.
Pour $20

RANCHO TEPUA BACANORA BLANCO 
Mezcal • 48% • Oaxaca, Mexico
Rancho Tepúa Bacanora Blanco is produced using maguey Pacifica and cooked
underground for 36 hours and then fermented with wild yeasts in stainless steel
vats for 8-10 days. It is then distilled twice in an alembic still that has a stainless
steel pot and a copper condenser.
Pour $15

RAYU JOVEN ENSAMBLE
Mezcal • 44% • Oaxaca, Mexico
Mezcal Rayu Ensamble is produced by mezcalero Bernardino Jarquín
Pacheco in Miahuatlan de Porfirio Díaz, Oaxaca using magueyes
Madrecuishe, Jabali, and Espadin. The agaves are cooked in an
underground oven, milled with mallets, fermented in pine wood vats,
and double-distilled in copper pots.
Pour $14

RAYU JOVEN ESPADIN
Mezcal • 44% • Oaxaca, Mexico
Mezcal Rayu Espadin Joven is produced by Isaias Martinez Juan in
San Juan del Rio, Tlacolula, Oaxaca. This is an artisanal mezcal
cooked in an underground conical oven, crushed by a horse-drawn
tahona, naturally fermented in pine wood vats, and double-distilled
copper pot stills.
Pour $10

SE BUSCA MEZCAL JOVEN 
Mezcal • 40% • Oaxaca, Mexico Pour $9

UNIÓN UNO JOVEN 
Mezcal • 40% • Oaxaca, Mexico
Mezcal Unión Uno uses farm-grown maguey Espadin and wild maguey Cirial. This
agave is cut and roasted for four days. The families that produce Union have several
generations experience as their main craft. Union uses a collection of different
producer-families in the region to produce their bottles.
Pour $10

VAGO ARROQUEÑO EN BARRO TIO 
Mezcal • 52% • Oaxaca, Mexico
Vago Arroqueno en Barro is made in extremely small batches by Tio Rey in Sola de
Vega. Tio Rey uses the traditional method of hand-mashing the cooked maguey
Arroqueno (agave Americana).
Pour $23

VAGO ELOTE
Mezcal • 50% • Oaxaca, Mexico
Vago Elote has a nose full of smoky toasted corn and dry river stones. The body is
sweet with wood tones and layers of honeycomb, green tropical fruit, and smoke. It
has a prolonged finish loaded with mint and papaya. This is a triple distilled Mezcal.
Pour $14

VAGO ESPADIN JOEL BARRIGA 
Mezcal • 50% • Oaxaca, Mexico
Vago Espadin from mezcalero Joel Barriga is produced in Hacienda Tapanala,
Oaxaca. Joel is Aquilino's cousin and his family has also been making mezcal for
many generations. Aquilino worked with Joel for several months to ensure that
Joel's mezcal Espadin would be similar to his own.
Pour $13

VAGO MADRE CUIXE – AQUILINO GARCIA LOPEZ 
Mezcal • 51% • Oaxaca, Mexico
Vago Madre Cuixe from Aquilino García López is produced with 100% maguey
Madre-Cuixe. This wild agave takes between 12-15 years to mature, and typically
grows in lower, hotter climates locally known as tierra caliente.
Pour $24

WILD SHOT REPOSADO 
Mezcal • 43.4% • San Luis Potosi, Mexico
Wild Shot Reposado is aged for 6 months in oak casks after distillation. The
company recommends that his mezcal to be consumed straight, either sipped chilled
or as a shot with lime and salt.
Pour $12

YUU BAAL JOVEN JABALI
Mezcal • 45% • Oaxaca, Mexico
Yuu Baal Jabali is made with maguey Jabali that are cooked in a
traditional pit oven. Once cooked, the agave are mashed by hand with
wooden mallets, fermented in pine wood vats, and double distilled in
small clay pots.
Pour $40

YUU BAAL JOVEN MADRECUIXE
Mezcal • 48.6% • Oaxaca, Mexico
Yuu Baal Madrecuixe is made with wild maguey Madre-Cuishe by
master mezcalero Alberto Ortiz in Santa Maria la Pila. This mezcal
offers an unmistakable herbal aroma and taste. It accentuates intense
notes of green vegetation and wet earth, with a mineral smell that is
unparalleled and unforgettable.
Pour $32

YUU BAAL REPOSADO
Mezcal • 45% • Oaxaca, Mexico
Yuu Baal Reposado is pale golden yellow, full bodied, and has a
delightful aroma from it's 6 months of aging in American White Oak
barrels. Like many reposados, this mezcal is nice to have on hand for
people who are new to mezcal but are familiar with tequila.
Pour $13

YUU BAAL TEPEZTATE
Mezcal • 48% • Oaxaca, Mexico
Yuu Baal Tepeztate is made with wild agave Tepeztate that can take
up to 35 years to mature. Due to the length of time needed for this
agave to grow, its very existence in the near future is very fragile. This
mezcal has sweet herbal notes of wild plants and cooked flowers.
Pour $32

ZIGNUM AÑEJO
Mezcal • 40% • Oaxaca, Mexico
Zignum Anejo is aged 18 months in new French oak barrels. This aging gives it
strong notes of caramel, vanilla, and wood. The agave used to make this mezcal are
not smoked. They are steam-cooked, giving this mezcal a very different flavor.
Pour $14

ZIGNUM REPOSADO
Mezcal • 40% • Oaxaca, Mexico
Zignum Reposado is aged 9 months in new medium toasted American oak barrels.
The agave used in this mezcal are not smoked, so it will not have a smokey
character. It has a light body with notes of raisins, banana, and vanilla.
Pour $11

ZIGNUM SILVER
Mezcal • 40% • Oaxaca, Mexico
Zignum Silver is unaged after distillation. It has slight notes of citrus and sweet
green agave. Given it's production processes, where the agave is steamed rather
than smoked or roasted, this mezcal does not have a smoky character like mezcals
made in a more traditional setting.
Pour $9
Tequila
1800 ANEJO
Añejo • Jalisco, Mexico 
Pour $18

1800 COCONUT TEQUILA 
Tequila • Jalisco, Mexico 
Pour $10

1800 SILVER TEQUILA 
Tequila • Jalisco, Mexico 
Pour $10

AGAVE LOCO PEPPER CURED 
Tequila • 35.5% • Jalisco, Mexico
Tequila is aged in bourbon barrels for 3 to 6 month. Following the traditional resting,
it is further "cured" with a blend of six peppers (the specific peppers are part of the
secret recipe but include jalapeno and serrano).
Pour $8

AGAVERO
Liqueur • 32% • Jalisco, Mexico
Agavero Tequila Liqueur has rich spicy agave, hay, verbena, and pepper aromas. A
silky entry leads to a very supple and glycerous, lightly sweet medium-full body of
reposado tequila agave. Finishes with a long, honey, yam, mud covered reed,
delicate pepper and ash fade.
Pour $11

AGAVERO ORANGE
Liqueur • 32% • Jalisco, Mexico
A blend of 100% Agave Tequila infused with orange and agave nectar. It is subtle
enough for sipping and is an ideal orange liqueur for the ultimate tequila, as it offers
a robust tequila flavor that couples with ripe citrus of Mexican oranges.
Pour $8

ANGELISCO BLANCO
Tequila • 40% • Jalisco, Mexico
Crystal clear in appearance, with aromas of green pear, white pepper and yellow
bell pepper and a taste of carmelized agave, perppercorn and mineral.
Pour $9

ANGELISCO REPOSADO
Tequila • 40% • Jalisco, Mexico
Pale yellow in appearance, due to this tequilas resting of 9 months in formerly used
Heaven Hill Bourbon barrels. This reposado is reminiscent on the nose of coconut,
creme brulee and bell peppers, and tastes much of the same, with added notes of
vanilla.
Pour $10

ARETTE AÑEJO
Tequila • 40% • Jalisco, Mexico
This complex tequila is aged 20 months in used bourbon barrels. Soft, smooth body
with a fantastic bouquet. Notes of citrus, grass, dried fruits, nuts, and vanilla. A
long, spicy finish.
Pour $10

ARETTE BLANCO
Tequila • Jalisco, Mexico
Tequila 100% Agave of beautiful transparence , luminous with silver shades, great
body and defined flavors.
Pour $8

ARETTE REPOSADO
Tequila • 40% • Jalisco, Mexico
Intense floral and earthy aromas. A soft mellow entry leads to a very sweet taste,
with low bitterness and heavy agave and floral flavors, the tequila also has
moderate fruity flavors that are followed by mild accents of earth, vanilla, and spice.
Pour $8

AVION REPOSADO
Reposado • 40% • Jalisco, Mexico
Aged 6 months, with a roasted agave presence, notes of cherry, pear, and peach,
flower hues of rose petals and tinges of herbs. Oak aroma is elegant with hints of
caramel and vanilla. It is extremely well balanced and sophisticated.
Pour $13

AVIÓN BLANCO
Tequila • 40% • Jalisco, Mexico
Avion Silver Tequila has intense agave aromas with herbal tinges of mint and
rosemary, delicate hues of flowers and black pepper and hints of grapefruit and
pineapple.
Pour $12

AVIÓN RESERVA 44 EXTRA AÑEJO 
Tequila • 40% • Jalisco, Mexico
Avion Agave is hand selected and estate grown at 7,000 feet above sea level. Slow
roasted in brick ovens for 72 hours, then carefully distilled and filtered, where it is
then aged for 43 months in oak barrels to create an incredibly smooth and finely
balanced finish.
Pour $26

AYATE AÑEJO
Tequila • 40% • Vallejo, CA
Aromatically intense with notes of caramel, butterscotch, dried fruits and toasty oak.
Impressive complexity with flavors of dark chocolate, toffee, butter and sweet
spices. This distinctive Anejo has a velvety soft and silky texture, full body with an
extraordinary finish.
Pour $24

BRIBÓN AÑEJO
Tequila • 40% • Jalisco, Mexico
Complex and sophisticated while being extremely approachable and easy to drink.
Dark amber with bright highlights. Cooked agave, layers of oak and vanilla. Rich,
with slightly sweet tone and a woody character.
Pour $10

BRIBÓN BLANCO
Tequila • 40% • Jalisco, Mexico
Tequila Bribon combines both old-world and cutting edge techniques to create a
tequila that is bold and flavorful, sophisticated and approachable.
Pour $8

BRIBÓN REPOSADO
Tequila • 40% • Jalisco, Mexico
Complex and sophisticated while being extremely approachable and easy to drink.
Light straw in color, there are slightly woody notes, nuts and cooked agave. Soft,
balanced, smooth and creamy on the palate with notes of vanilla, dried fruit, and
cook
Pour $9

CABO WABO BLANCO 
Tequila • 40% • Mexico
Created by Sammy Hager of Van Halen this tequila is made of 100% blue Agave.
The double-pot distilled blanco was baked in a wood-fired adobe oven which allows
for the smooth and rich texture. Enjoy anytime.
Pour $10

CAMPO BRAVO PLATA 
Tequila • 40% • Austin, TX
The 100% agave is grown in the Michoacán Region of Mexico. Campo Bravo is
crafted at Productos Selectos de Agave. This distillery currently only produces one
other tequila brand, Murmullo. The aroma is vanilla, citrus, and herbal agave.
Pour $8

CASA DRAGONES BLANCO 
Tequila • Hecho en Tequila, Mexico 
Pour $20

CASA NOBLE AÑEJO 
Añejo • Jalisco, Mexico
Casa Noble nurtures and harvests 100% Blue Weber agave in the rich, volcanic soil
of Jalisco, Mexico for a consistently smooth flavor with unique characteristics and
aromatic essences.
Pour $15

CASA NOBLE CRYSTAL 
Tequila • 40% • La Cofradia, Mexico
100% Single Estate Blue Agave, triple distilled for a superior taste. This Blanco is in
a class by itself.
Pour $10

CASA NOBLE JOVEN 
Tequila • 51% • La Cofradia, Mexico
Notes of earthy, rich cooked agave pair perfectly with sweet floral and tropical fruit
notes. At 102 proof, the higher alcohol content gives our Joven an unmatched flavor
experience, while aging it for 6 weeks brings forward notes of vanilla and a smooth
finish.
Pour $11

CASA NOBLE REPOSADO 
Tequila • 40% • Jalisco, Mexico 
Pour $10

CASA NOBLE SINGLE BARREL REPOSADO 
Tequila • 40% • La Cofradia, Mexico
Tequila the way it's been enjoyed for 7 generations—bottled straight from one truly
unique barrel. Distributed in individually numbered bottles signed by Pepe
Hermosillo, Maestro Tequilero and founder. Introducing The Casa Noble Single
Barrel Program.
Pour $16

CASAMIGOS ANEJO
Añejo • 40%
Soft Caramel and vanilla notes with a sweetness from the Blue Weber agave
layered with barrel oak and subtle hints of spice. Aged for 14 months.
Pour $16

CASAMIGOS BLANCO
Tequila • 40%
Crisp and clear, with subtle hints of vanilla and a smooth finish. Distilled in copperlined stills, then filtered, and aged two months in stainless steel.
Pour $13

CASAMIGOS REPOSADO
Reposado
Smooth and clean with hints of caramel. Aged for seven months in American white
oak casks that have been reconditioned after originally being used for premium-aged
whiskey. Great served neat or on the rocks, and perfect base for premium cocktails.
Pour $14

CAZADORES ANEJO
Añejo • 40% • Seal Beach, CA 
Pour $11

CAZADORES AÑEJO CRISTALINO 
Tequila • 39% • Seal Beach, CA
100% Blue Weber Agave Tequila from the highlands of Jalisco, Mexico is used to
make this super smooth and clear tequila with the sensory qualities of an anejo
tequila, maintaining notes of aged wood, nuts, and apples.
Pour $12

CAZADORES BLANCO
Tequila • 40% • Seal Beach, CA 
Pour $8

CAZADORES REPOSADO
Reposado • Seal Beach, CA
100% Blue Agave rests in new, small, American white oak casks for at least 2
months. Notes of dill and black pepper, Cazadores is nimble and off-dry. Finish is
clean, light and off-dry. A classic tequila and great for margaritas.
Pour $9

CENOTE AÑEJO
Añejo • 40% • New York, NY 
Pour $16

CENOTE BLANCO
Tequila • 40% • New York, NY 
Pour $11

CENOTE REPOSADO
Reposado • 40% • New York, NY 
Pour $14

CHAMUCOS AÑEJO Tequila • 40% • Mexico
100% Blue Agave Tequila, aged in white oak barrels up to three years. Smooth and
sweet, this unique tequila features prominent flavors of dried fruit, almonds, vanilla,
and chocolate.
Pour $15

CHAMUCOS BLANCO
Tequila • 40% • Mexico
The aroma is an intense and fruity with a powerful fragrance of raw agave,
pronounced notes of peppermint and vanilla. The taste is smooth and sweet, fruity
and predominantly citric.
Pour $13

CHAMUCOS DIABLO BLANCO 
Tequila • 55% • Mexico
Palate : Spicy, vanilla, cinnamon, fennel, citrus and orange blossoms with a barely
discernible hint of smoke. Powerful approachable when sipped, smooth and has a
very silky mouth feel. Finish: It is well rounded and balanced with a nice hint of
earthiness.
Pour $15

CHAMUCOS REPOSADO
Tequila • 40% • Mexico
A smooth, fruity spirit made from 100% blue agave.Spicy with balanced earthy
notes, a hint of oak and a smooth and lingering flavor. Preserved in white oak barrels
for six months
Pour $13

CHINACO AÑEJO
Tequila • 40% • Tamaulipas, Mexico
The enticing Chinaco Añejo is aged for thirty months in a similar mix of barrels as
Chinaco Reposado, along with some American bourbon casks, ensuring its
consistent smoothness and character. The result is a remarkably smooth and rich
complexity that is to be savored like a fine cognac.
Pour $17

CHINACO BLANCO
Tequila • 40% • Tamaulipas, Mexico
Chinaco Blanco is distinguished by its fresh 100% agave taste. Blanco is bottled
within five days after distillation for a remarkably fresh, clean taste that's perfect for
sipping, making premium margaritas or adding to mixed drinks.
Pour $10

CHINACO ULTRA AÑEJO CRISTALINO 
Tequila • 40% • Tamaulipas, Mexico
Fully matured Chinaco Tequila Añejo is filtered using activated charcoal to achieve a
soft character along with the complex flavors that are so unique to Chinaco Añejo.
Pour $17

CINCORO ANEJO
Añejo • 80% • mexico
Aged 40 to 44 months, Cincoro Anejo Tequila has aromas of agave, caramel, and
dried fruits, with a white chocolate taste, and an elegant finish that is extra long and
complex.
Pour $31

CINCORO BLANCO
Tequila • 40% • mexico
Cincoro Tequila by Michael Jordan is uniquely made with the highest quality 100%
Blue Weber agave from both the highland and lowland regions of Jalisco, Mexico.
Pour $16

CINCORO EXTRA ANEJO 
Añejo • 80% • mexico
Cincoro Extra Añejo is aged at the distillery 40-44 months in an underground cellar,
far longer than required for Extra Anejo tequilas. Deep copper in color from the
additional time in barrel, cooked agave, with toasted oak and dried fruits on the
nose.
Pour $379

CINCORO REPOSADO
Tequila • 80% • mexico 
Pour $21

CLASE AZUL GOLD EDITION 
Añejo • 40% • Mexico
Special Edition – Born from a love story between heaven and earth, Clase Azul Gold
embodies the spectacular sunsets created by the daily descent of the Mayan's Sun
God into his lover's terrestrial arms. This enchanting decanter captures the sublime
embrace between light and dark.
Pour $70

COA DE JIMA REPOSADO 
Tequila • 40% • Los Altos, Mexico
Coa de Jima Agave Reposado is carefully grown in the rich, red clay and expertly
harvested in the Los Altos region of Mexico. Los Altos Weber Blue Agaves are
famous for being larger in size and sweeter in aroma and taste.
Pour $9

COA DE JIMA SILVER 
Tequila • 40% • Los Altos, Mexico 
Pour $8

CORAZON REPOSADO
Tequila • 40% • Jalisco, Mexico
Warm, expanding, long-lasting finish enriched by spicy, oaky notes. Medium-bodied.
Clean spicy and woody with a complex layering of dry fruits, caramel, toasted
aromas and a great creamy feel. Subtle agave, cedar notes, sweet fragrances such
as vanilla, dry dates and almonds.
Pour $9

CORAZÓN AÑEJO
Tequila • 40% • Jalisco, Mexico
A round, supple attack leads to a medium to full bodied taste with rich caramel.
Effortless finish with a touch of sweet Canadian oak spice. It is beautifully balanced
and made for slow, contemplative sipping. Sweet and floral nose, deep amber gold.
Pour $10

CORAZÓN BLANCO
Tequila • 40% • Jalisco, Mexico
Tempting, mellow and elegant agave flavor surrounded by a hint of cardomom and
smokiness, subtle straw-like notes. Moderate body, earthy, mineral components,
soft, creamy on the tongue with silky texture, light nutty tones. Warm, lingering,
interesting spicy finish.
Pour $8

CORAZÓN EXTRA AÑEJO 
Tequila • 40% • Jalisco, Mexico
Aromas of earthy roasted pineapple greens blend with sweet vanilla on the inviting
nose. It is ultra-smooth with flavors of oak, tropical fruit and spice melding together
to create a sophisticated finish.
Pour $18

CORAZÓN REPOSADO SINGLE BARREL 
Tequila • 40% • Jalisco, Mexico
Corazón Reposado that has been aged in barrels that have previously held either
Buffalo Trace Kentucky Straight Bourbon Whiskey, Eagle Rare Kentucky Straight
Bourbon Whiskey, Weller Special Reserve Kentucky Straight Bourbon Whiskey,
Blanton's Single Barrel Kentucky Straight Bourbon Whiskey or 1792 .
Pour $11

CORRALEJO AÑEJO
Añejo • 40% • Guanajuato, Mexico
Corralejo dates back to 1775 in the town of Guanajuato. This añejo is aged 12
months in charred American oak. This mature spirit is packaged in a red bottle,
which is the Mexican color of prosperity.
Pour $11

CORRALEJO BLANCO
Tequila • 40% • Guanajuato, Mexico
100% Blue Agave. A peppery and spicy blanco with a solid kick. Semi-sweet and
slightly floral with a oily medium body and long finish. Nice in a margarita or
cocktail.
Pour $9

CORRALEJO REPOSADO
Reposado • 40% • Guanajuato, Mexico
Corralejo is known for its innovative techniques that date back to 1775 when the
distillery first began producing tequila in Guanajuato. This reposado is aged 4
months in 3 different types of casks - French, American and white oak - to impart a
variety of characteristics to this matured spirit.
Pour $9

CÓDIGO 1530 BLANCO 
Tequila • 40% • Amatitán, Mexico
An unrested tequila. We take pride in every step of our production process, carefully
sourcing only the best ingredients to produce a spirit that requires no resting. Like
many tequila aficionados, we recommend this expression as the true natural taste of
our storied terrior.
Pour $12

CÓDIGO 1530 GEORGE STRAIT AÑEJO Tequila • 40% • Amatitán, Mexico
Codigo 1530 Tequila ages in Award Winning French Oak Barrels. The George Strait
Special Edition Anejo is aged for 18 months and has hints of fruit, with subtle hints
of oak and vanilla and a touch of spice on the finish.
Pour $29

CÓDIGO 1530 ORIGEN EXTRA AÑEJO 
Tequila • 40% • Amatitán, Mexico
The source of a legacy. Aged six years in French White Oak wine barrels. One of the
oldest and most refined Extra-Anejo tequilas available.
Pour $74

CÓDIGO 1530 REPOSADO 
Tequila • 40% • Amatitán, Mexico
Codigo 1530 is private recipe tequila that is very sophisticated and has a very nice
mouthfeel. Takes the deliciously concentrated blanco and add six months of French
oak wine cask maturation for a gentle touch of exotic spice and richness to get this
tequila.
Pour $17

CÓDIGO 1530 ROSA 
Tequila • 40% • Amatitán, Mexico
Perfect Expression. This tequila begins with the purity of our Blanco, which is rested
for one month in French White Oak Napa Cabernet barrels. It is rested just long
enough for the wine barrels to enrich the natural agave flavor but maintain the
elegant floral notes.
Pour $16

CÓDIGO AÑEJO
Tequila • 40% • Amatitán, Mexico
Made from the best mature blue agave plants, incredibly smooth and delicious. This
private recipe tequila has a unique wine influence with hints of sherry and oaky
flavor from ageing in French oak casks.
Pour $30

DELEÓN AÑEJO
Tequila • 40% • Jalisco, Mexico
DeLeón Añejo is aged to perfection. Made from 100% highland blue weber agave,
slow roasted for remarkable depth and complexity. Blending the art of Tequila with
mastery of French wine making, DeLeón Añejo is aged for over a year, first in
American Oak barrels and finished in French Oak wine casks.
Pour $19

DELEÓN LEÓNA
Tequila • 40% • Jalisco, Mexico
Selected from our private reserve, this exceptional Tequila is aged in robust
American Oak, and then rested for more than a year in the finest French Sauternes
casks. The result is a deep amber color with notes of fresh fruit, warm cinnamon and
an elegant sweet brown spice finish.
Pour $224

DELEÓN REPOSADO
Tequila • 40% • Jalisco, Mexico
The finest highland Tequila is gently aged in bold American Oak and then finished in
delicate French Oak wine casks creating a balanced profile, with vanilla, dried fruit,
and a hint of spice on the finish.
Pour $13

DON ABRAHAM AÑEJO 
Tequila • 40% • Jalisco, Mexico
From the valley of Amatitan "Tequila" Jalisco, Mexico. This region has the perfect
combination of soil, weather and other natural factors, allow to have the best
conditions required to produce blue 100% agave tequila.
Pour $15

DON ABRAHAM BLANCO 
Tequila • 40% • Jalisco, Mexico
From the valley of Amatitan "Tequila" Jalisco, Mexico. This region has the perfect
combination of soil, weather and other natural factors, allow to have the best
conditions required to produce blue 100% agave tequila.
Pour $11

DON ABRAHAM EXTRA AÑEJO 
Tequila • 40% • Jalisco, Mexico
Our agave plants originate from one of the finest growing regions in all of Jalisco,
Mexico: Amatitan. In this beautiful valley the perfect combination of soil, weather
and other natural factors produces excellent conditions which are required to
produce the finest blue agave.
Pour $24

DON ABRAHAM REPOSADO 
Tequila • 40% • Jalisco, Mexico
Don Abraham Organico uses 100% organically farmed blue agave plants. The
careful cooking process in our traditional brick ovens, fermentation and double
distillation in copper pot stills result in a product specially made to satisfy the taste
of the most demanding connoisseurs.
Pour $13

DON JULIO 1942 
Tequila • 40%
Celebrated in exclusive cocktail bars, restaurants and nightclubs, the iconic Don
Julio 1942® Tequila is the choice of connoisseurs around the globe.
Pour $34

DON JULIO 70 AÑEJO CLARO 
Tequila • 40%
100% Agave limited edition tequila aged in American white oak for 18 months and
filtered for more agave flavors. Crystal clear with smooth and light character,
opening with citrus. Notes of vanilla, honey and toasted oak lead to a smooth
lasting finish.
Pour $17

DON JULIO AÑEJO 
Tequila • 40%
The nose is initially caramel sweet, but clean vegetal aromas soon rise from the
glass. The body is somewhat light, and the palate is gingery and peppery.
Pour $18

DON JULIO BLANCO 
Tequila • 40%
Using the finest blue agave plant and a time honored distillation process, Don
Julio® Blanco Tequila is tequila in its truest form.
Pour $14

DOS ARMADILLOS AÑEJO
Tequila • 40% • Jalisco, Mexico
Premium agave aged for 8 years, and tequila aged for 18 months to
achieve its unique color and flavor. A truly exceptional tequila. Enjoy
mixed into your favorite cocktail or on its own.
Pour $18

DOS ARMADILLOS PLATA
Tequila • 40% • Jalisco, Mexico
Made with 100% mature Blue Weber agaves that are more than 8
years of age. From the high mountain region of Mazamitla Jalisco.
Body: Rich, silky body, with brilliant platinum hues and long
pronounced legs, presenting a full body with a sleek texture on the
palate.
Pour $13

DOS ARMADILLOS REPOSADO
Tequila • 40% • Jalisco, Mexico
100% Blue Weber Agave. Agave is matured for at least 8 years to
achieve the best flavor. The tequila is aged for 6 months to develop its
unique flavor. Enjoy in your favorite cocktail or on its own.
Pour $15

DULCE VIDA AÑEJO 
Tequila • 50% • Mexico
This is a unique, certified organic, small-batch Tequila with a distinct whiskey-like
presence...Look for a golden color and rich honey notes with a bit of peppery sting.
The assertive alcohol can't be ignored...but it fades into pleasingly mellow agave
notes.
Pour $13

DULCE VIDA BLANCO 
Tequila • 40% • Mexico
Bottled immediately after distillation, Dulce Vida is as vibrant as a blanco can get.
Dulce Vida Blanco has a pleasant citrus aroma that is well balanced with a hint of
spice and a sweet agave finish. It's the perfect complement to a margarita or
Mexican Mule.
Pour $8

DULCE VIDA REPOSADO 
Reposado • 40% • Mexico 
Pour $11

EL DESTILADOR REPOSADO 
Tequila • 40% • Jalisco, Mexico
Exceptional quality premium tequila it is 100% pure blue agave. It has an intense
color with gold and silver highlights and a clear nose with agave and fine wood
notes. Its pleasant flavor recalls wood and raw agave notes. It is full bodied with
legs.
Pour $9

EL DESTILADOR SILVER 
Tequila • 40% • Jalisco, Mexico
If you're looking for a decent quality well tequila that stands up in cocktails, this is
one to go to. It has bright, clean agave flavors with hints of citrus and a touch of
grassiness. Finishes slightly hot, but not enough to feel too coarse or harsh.
Pour $8

EL DESTILADOR SILVER 99 PROOF 
Tequila • 44.5% • Jalisco, Mexico
El Destilador is an exceptional quality premium tequila. The blanco presents a clean
aroma and pleasant flavors of cooked agave and fine wood, with a higher proof for
cocktails.
Pour $8

EL JIMADOR ANEJO 
Añejo • Jalisco, Mexico 
Pour $10

EL JIMADOR REPOSADO 
Reposado • Jalisco, Mexico 
Pour $9

EL JIMADOR SILVER 
Tequila • Jalisco, Mexico 
Pour $8

EL MAYOR AÑEJO 
Añejo • 40% • Guadalajara, Jalisco, Mexico 
Pour $14

EL MAYOR BLANCO 
Tequila • Mexico
100% Blue Agave Blanco tequila delivers a crisp, light body, with a hint of pepper
and a bevy of accolades to match.
Pour $10

EL MAYOR CRISTALINO AÑEJO 
Tequila • 40% • Mexico
El Mayor Cristalino Tequila is an Anejo tequila that has been filtered not once, but
twice using ultra fine charcoal. The result is a tequila that has the complexity and
character of an Anejo with the crisp, bright notes and color of Blanco.
Pour $14

EL MAYOR FRENCH OAK CHARDONNAY CASK REPOSADO 
Tequila • 40% • Mexico 
Pour $20

EL MAYOR REPOSADO 
Reposado • 40% • Guadalajara, Jalisco, Mexico 
Pour $11

EL MAYOR SINGLE ESTATE BLANCO 
Tequila • 40% • Guadalajara, Jalisco, Mexico
This deliciously herbal blanco tequila is made exclusively from agave on the Los
Lobos Plantation, the highest altitude in the lowlands of Jalisco, at 1900 meters
above sea level.
Pour $15

EL TESORO AÑEJO 
Tequila • 40% • Jalisco, Mexico
Remarkably full and balanced flavor, described by many connoisseurs as one of the
world's finest sipping tequilas. Mexican law requires Añejo ("year") tequila to age
for at least one year. El Tesoro Añejo is aged two to three years in oak barrels.
Pour $15

EL TESORO BLANCO 
Tequila • 40% • Jalisco, Mexico
Crystal clear and exceptionally smooth. Only the sweetest part of the Agave plant
goes into El Tesoro Platinum, which makes it perfect for mixing. El Tesoro Platinum
is bottled within 24 hours of distillation to capture the freshest agave flavors.
Pour $13

EL TESORO PARADISO EXTRA AÑEJO 
Tequila • 40% • Jalisco, Mexico
Irresistible and deliciously smooth. Literally a "paradise", this unique, handcrafted
blend of 100% Blue Agave tequilas takes on a remarkable elegance from its distinct,
Cognac-barrel aging process.
Pour $29

EL TESORO REPOSADO 
Reposado • Jalisco, Mexico
Mellow and rich, with subtle wood tones. Reposado ("rested") tequila, by law,
requires aging for two months. El Tesoro Reposado is exceptionally well rested. It's
aged for eight to 11 months in oak barrels.
Pour $14

EL ULTIMO AGAVE BLANCO 
Tequila • 40% • Amatitán, Mexico
A bouquet of citrus and herbs, with subtle notes of apple and pineapple. Full body
carries cinnamon spices and peppery tones to a long, dry finish. Ideal for cocktails.
Pour $9

EL ULTIMO AGAVE REPOSADO 
Tequila • 40% • Amatitán, Mexico
Made from 100% blue agave that has been rested for 6 months. Sweet aroma of
vanilla and hazelnut with a little woodiness, which is also pronounced on the palate.
Best enjoyed with fish and seafood.
Pour $8

ESPOLON BLANCO
Tequila • 40% • Jalisco, Mexico
Distiller Cirilo Oropeza claims that playing rock music to his vats of fermenting
agave helps to "inspire" the yeast.
Pour $8

ESPOLON REPASADO
Reposado • 40% • Jalisco, Mexico
With tequila aging in mind, carefully designed and constructed white-oak barrels
have been used to house the spirit for 6 months, giving it a balance of agave and
mild wood flavors.
Pour $9

EXOTICO BLANCO
Tequila • 40% • Jalisco, Mexico
Our perfectly clear Blanco has a crisp, herbal aroma with spicy undertones and a
robust taste of fresh agave with hints of pepper and herbal notes. Finishes with a
fresh wave of heat followed by a balanced spice.
Pour $8

EXOTICO REPOSADO
Tequila • 40% • Jalisco, Mexico
Premium 100% blue agave tequila aged for six months in white oak bourbon barrels
for an enhanced, yet mellow flavor. Crafted in Jalisco to raise your expectations as
well as your standards. The taste is a blend of vanilla, dry fruit, and spices.
Pour $9

EXPRESIONES DEL CORAZÓN ARTISANAL BLANCO Tequila • 40% • Jalisco, Mexico
An artisanal tequila with aromas of cooked agave, herbs, citrus and anise with
unique notes of green apple. The sweet, slightly minty flavor combines with a slight
tang for a perfect tequila that can be enjoyed in a favorite cocktail.
Pour $15

EXPRESIONES DEL CORAZÓN BUFFALO TRACE OLD 22 AÑEJO
Tequila • 40% • Jalisco, Mexico
Aged in Old Rip Van Winkle bourbon barrels resulting in an creamy Anejo with notes
of oak, almond and vanilla that dance around the aromas of lemon tea, ginger and
herbal notes. Enjoy in a classic cocktail.
Pour $20

EXPRESIONES DEL CORAZÓN BUFFALO TRACE REPOSADO
Tequila • 40% • Jalisco, Mexico
Corazon Buffalo Trace Reposado Tequila is aged for over 10 months in casks that
were previously used to mature Buffalo Trace Bourbon.
Pour $18

EXPRESIONES DEL CORAZÓN GEORGE T. STAGG 
Tequila • 40% • Jalisco, Mexico
Aged in George T Stagg bourbon barrels to create an Anejo with bright fruity aromas
and herbal notes that are perfectly balanced by flavors of cinnamon, chocolate and
green apple.
Pour $20

GEMA REPOSADO TALAVERA 
Tequila • 40% • Jalisco, Mexico
Talavera obtains its name because of the patter of the design painted in the bottle.
The tequila is an authentic quality of 100% agave and a delight to the palate.
Talavera has Super-Premium quality of Cofradia products, which is aged in white oak
barrels for 6 months.
Pour $10

GRAN AGAVE REPOSADO 
Tequila • 40% • Jalisco, Mexico
Gran Agave Reposado, has the perfect combination of agave and barrel. Matured in
American oak for 6 months, its age gives it a hint of wood flavor. It has notes of
cooked agave, wood and spices. Ideal to be enjoy neat or in a cocktail.
Pour $8

GRAN CENTENARIO AÑEJO 
Tequila • 40% • Jalisco, Mexico
Aged 18-36 months in French Limousin oak casks. Unparalleled smoothness and
quality. Sweet and honeyed flavor, aromas of clove, nutmeg, orange, tangarine,
candied fruits, figs and toasted coconut.
Pour $12

GRAN CENTENARIO LEYENDA EXTRA ANEJO 
Tequila • 40% • Jalisco, Mexico
Gran Centenario Leyenda is among the first Tequilas to ever be awarded the
classification "Extra Añejo." Combining only 100% Blue Agave with an average
aging process of 4 years in French Limousin oak barrels, Leyenda has remained the
best kept secret in the highlands of Jalisco.
Pour $53

GRAN CENTENARIO PLATA Tequila • 40% • Jalisco, Mexico
A Blanco tequila with aromas of lime, citrus and pear resulting for rest in French
Limousin oak barrels. Herbal notes with a hint of spicy pepper that is balanced with
the agave aroma and earthy background.
Pour $11

GRAN CENTENARIO REPOSADO 
Tequila • 40% • Jalisco, Mexico
Elegant, well-rounded, balanced character. Rests for 10 months in French Limousin
oak casks. The perfect marriage of oak and agave notes. Subtle hints of vanilla,
cinnamon, citrus, pear, and tropical fruitiness. Sweet, smooth, complex.
Pour $11

GRAN CENTENARIO ROSANGEL 
Tequila • 40% • Jalisco, Mexico
Rosangel is made from Gran Centenario Reposado tequila mellowed for 2 months in
Port barrels and then infused with Hibiscus Flowers.
Pour $10

GRAND MAYAN 3D SILVER 
Tequila • 40% • Jalisco, Mexico
Grand Mayan 3D Silver tequila is the perfect white spirit, during its production is
distilled slow 3 times. This light, crystal clear tequila with fresh agave aromas and
hints of citrus is a favorite of tequila connoisseurs worldwide, and mixes flawlessly
into most any cocktail.
Pour $18

GRAND MAYAN REPOSADO 
Tequila • 40% • Jalisco, Mexico
Grand Mayan's handcrafted Reposado Tequila is produced with the purest, centralhighland Blue Agave with the highest standards of production. Aged in American
and French oak casks for 6-8 months, Grand Mayan Reposado Tequila is smooth for
sipping with notes of oak and chocolate.
Pour $21

GRAND MAYAN ULTRA AGED AÑEJO 
Tequila • 40% • Jalisco, Mexico
Grand Mayan Ultra Aged Tequila is dark in color with the sweet aroma of nuts and a
distinctive scent. The taste is extraordinary, very smooth and pleasurable to the
palate.
Pour $24

HERENCIA AÑEJO
Tequila • 40% • Jalisco, Mexico
Aromatic full notes of cooked ripe agaves, a subtle touch of vanilla
and delicate fine wood. As a result of the traditional aging process in
caves, it evokes the agave recently removed from the kiln, enjoying a
persistent and preciously smooth aftertaste.
Pour $21

HERENCIA BLANCO
Tequila • 40% • Jalisco, Mexico
100% Agave. Herbal and grassy nose with similar tastes, along with
citrus and agave flavors. The finish is smooth and balanced with just a
bit of hot pepper and spice.
Pour $10

HERENCIA REPOSADO
Tequila • 40% • Jalisco, Mexico
100% blue agave, double distilled and matured in ex-bourbon barrels
for 9 months. Herencia Mexicana Reposado Tequila is made by
Destilería La Fortuna in Arandas County, Jalisco, Mexico.
Pour $15

HERRADURA ANEJO
Añejo • Jalisco, Mexico 
Pour $12

HERRADURA REPOSADO
Reposado • Jalisco, Mexico 
Pour $10

HERRADURA SILVER
Tequila • Jalisco, Mexico 
Pour $10

HERRADURA ULTRA AÑEJO 
Tequila • 40% • Jalisco, Mexico
With the perfect blend of our premium Añejo and Extra Añejo barrels, ULTRA is a
crystal-clear tequila. A subtle hint of agave nectar offers a superior taste that will
transport tequila connoisseurs beyond smoothness.
Pour $15

HORNITOS BLACK BARREL 
Añejo • Chicago, IL 
Pour $9

HORNITOS CRISTALINO AÑEJO 
Tequila • 40% • Mexico
Hornitos Cristalino is an anejo tequila that is gently filtered after aging to remove its
color. It is smoother and sweeter than a Plata, making it highly approachable &
versatile. Its not what you would expect.
Pour $9

HORNITOS LIME SHOT 
Tequila • 35% • Chicago, IL
When looking for a premium alternative to traditional tequila shots, our Lime Shot
tequila is the perfect go-to. We've taken 100% blue agave tequila and infused it
with a hint of natural lime and salt for a refreshing, crowd-pleasing experience.
Pour $8

HORNITOS PLATA
Tequila • 40% • Chicago, IL
For a smooth tasting tequila made from 100% blue agave, look no further than our
Plata. This tequila has a clean, lively flavor with floral and herbal notes.
Pour $9

HORNITOS REPOSADO
Reposado • Chicago, IL 
Pour $10

JOSE CUERVO ESPECIAL GOLD 
Tequila • 40% • Jalisco, Mexico 
Pour $8

JOSE CUERVO ESPECIAL SILVER 
Tequila • 40% • Jalisco, Mexico
A true silver tequila, the master distillers at La Rojeña crafted this unique and
balanced blend to bring out tones of agave, caramel, and fresh herbs in its flavor
profile.
Pour $8

JOSE CUERVO TRADICIONAL AÑEJO 
Tequila • 40% • Jalisco, Mexico
This drink is of the highest quality and includes only the finest ingredients. Carefully
selected for its distinctive flavor profile, this drink is distilled for a bold taste.
Smooth enough to be had alone or added as a delicious kick to your favorite mixed
drink.
Pour $12

JOSE CUERVO TRADICIONAL REPOSADO 
Tequila • 40% • Jalisco, Mexico 
Pour $10

JOSE CUERVO TRADICIONAL SILVER 
Tequila • 40% • Jalisco, Mexico 
Pour $9

KAH AÑEJO
Tequila • 40% • Jalisco, Mexico
100% Blue agave. Aromas of coffee, chocolate & tobacco masterfully
created during its 2 year aging time in American white oak casks.
Vanilla and spice notes. Pristine finish. Certified organic and kosher.
Every bottle is an individual hand-crafted work of art.
Pour $17

KAH BLANCO
Tequila • 40% • Jalisco, Mexico
Intense sweet notes of the cooked 100% Blue agave, followed by a spicy white
peppery punch. Silky and delicate, leaving on the palate a sachet of spices. Certified
organic and kosher. Every bottle is an individual hand-crafted work of art.
Pour $13

KAH REPOSADO
Tequila • 40% • Jalisco, Mexico
100% Blue agave. 110-proof aged for 10 months in French limousine casks. Ultra
smooth, hints of vanilla and caramel. Full body, intense full agave flavor. Certified
organic and kosher. Every bottle is an individual hand-crafted work of art.
Pour $15

LOS ARANGO AÑEJO 
Tequila • 40% • Australia
Los Arango Tequila Anejo has aromas of caramel, spice and oak. Full Bodied - rich
with vanilla, salt and green pepper flavors. A long rich spicy and smooth finish.
Pour $14

LOS ARANGO BLANCO 
Tequila • 40% • Australia
Named in honour of famous revolutionary leader Doroteo Arango "Pancho Villa" of
the Mexican Revolution. It's made from 100% blue agave through double distillation.
Sip to embrace the robust flavours.
Pour $10

LOS ARANGO REPOSADO 
Tequila • 40% • Australia
Los Arango Reposado is 100% blue agave bottled by hand. The leather label and tag
adds a premium touch. Los Arango is considered as the ultimate expression of art in
tequila production. This tequila is double distilled and aged 7 months in American
oak barrels.
Pour $13

LOTE MAESTRO AÑEJO
Tequila • 40% • Jalisco, Mexico
Tequila 100% pure Blue Agave, dark amber color with reddish hues,
with excellent toasted flavor, and sweet fruity aromas.
Pour $18

LUNAZUL AÑEJO
Tequila • 40% • Mexico
100% agave tequila, aged in bourbon barrels for 12 to 18 months. Amber in color,
clean and purely transparent. Subtle notes of fruit, smoky white oak and vanilla
spice. Full body with subtle sweetness and peppery oak followed by a prolonged
warm and spicy finish.
Pour $10

LUNAZUL BLANCO
Tequila • Bardstown, KY 
Pour $8

LUNAZUL REPOSADO
Reposado • Bardstown, KY 
Pour $9

MAESTRO DOBEL DIAMANTE
Made with 100% pure agave and formulated using a blend of Extra-Añejo, Añejo
and Reposado tequilas, this exceptional tequila is unique.
Pour $18

MAESTRO DOBEL HUMITO SMOKED SILVER 
Tequila • 40% • Jersey City,NY
Inspired by the Artisanal Process from the 17th century tequila production
techniques. They utilize mesquite wood during the production of this silver tequila,
providing an extraordinary balance between smoky notes and agave.
Pour $18

MAESTRO DOBEL REPOSADO 
Tequila • 40% • Jersey City,NY
Maestro Dobel Reposado is aged for six months in select new American white oak
barrels that have been carefully chosen and roasted to accentuate aromas and
flavors. We combine different vintages of tequila from different phases of the aging
process to create superior flavors.
Pour $18

MAESTRO DOBEL SILVER 
Tequila • Jersey City,NY 
Pour $12

MI CAMPO BLANCO 
Tequila • 40% • Canadaigua, NY 
Pour $8

MI CAMPO REPOSADO 
Tequila • 40% • Canadaigua, NY 
Pour $9

MILAGRO ANEJO
Añejo • 40% • Jalisco, Mexico
Milagro's Añejo is triple-distilled, as is the entire line, and it is packaged in yet
another variation of the shaded-color bottle theme--this one hinting of topaz.
Pour $10

MILAGRO SILVER
Tequila • 40% • Jalisco, Mexico
Milagro (translated to "miracle") is a tequila which uses only agaves grown on the
estate of Juan de la Torre, now a partner in the brand. His agaves were unaffected
by the bacteria which caused a shortage in agave and tequila production in the mid
'90's.
Pour $8

OLD MEXICO BLANCO 
Tequila • 40% • Jalisco, Mexico
Old Mexico is an artisanal and small-batch tequila. Ripe Blue Weber agave is picked
from the fields of Jalisco at the peak of maturity, slow-cooked for several days in
old-style brick and stone ovens, and carefully extracted using traditional Molino
Mills.
Pour $8


OLD MEXICO ORO 
Tequila • 40% • Jalisco, Mexico 
Pour $8

OLMECA ALTOS AÑEJO 
Tequila • 40% • Jalisco, Mexico
Altos Anejo Tequila is a super premium, high quality, 100% agave tequila. Altos
Anejo is aged in oak barrels for 18 months, which results in rich and complex flavors.
Pour $10

OLMECA ALTOS PLATA 
40% • Jalisco, Mexico
Altos Plata Tequila is a super premium, high quality, 100% agave tequila. This
tequila is perfectly balanced with a lingering finish. Enjoy in a margarita or on the
rocks.
Pour $8

OLMECA ALTOS REPOSADO 
Tequila • 40% • Jalisco, Mexico
Altos Reposado Tequila is a super premium, high quality, 100% agave tequila. Altos
Reposado is aged in oak barrels or 4-6 months, which creates a rich and complex
taste.
Pour $9

PARTIDA AÑEJO
Añejo • 40% • Guadalajara, Jalisco, Mexico 
Pour $14

PARTIDA BLANCO
Tequila • 40% • Mexico 
Pour $11

PARTIDA ELEGANTE EXTRA AÑEJO
Tequila • 40% • Jalisco, Mexico
Smells of mint, light toffee, summer vegetation and gum with subtle
scents of cookie batter, tapioca, brown rice and a touch of honey. At
midpalate the taste turns peppery, honeyed, oaky, slightly toasty and
spicy. Finishes elegantly, moderately sweet and integrated.
Pour $91

PARTIDA REPOSADO
Reposado • Guadalajara, Jalisco, Mexico 
Pour $13

PATRÓN SILVER
Tequila • 40% • Las Vegas, NV 
Pour $13

PELIGROSO SILVER
Tequila • 42% • Europe 
Pour $8

PRÓSPERO AÑEJO
Tequila • 40% • Jalisco, Mexico
Aged for a minimum of 12 months in oak barrels, Prospero anejo has flavors of spice,
toasted caramel, cacao and roasted fruit. Wine enthusiast rated 97.
Pour $10

PRÓSPERO BLANCO
Tequila • 40% • Jalisco, Mexico
Rich in aromas and bright tones, Prospero Blanco Tequila provides an unparalleled
flavor with a smooth, elegant, and perfectly balanced finish. Smooth enough to be
taken alone or to add a delicious kick to your favorite mixed drink.
Pour $8

PRÓSPERO REPOSADO
Tequila • 40% • Jalisco, Mexico
Made with 100% blue agave Tequila from the lowlands of Jalisco, Mexico and aged
in new oak barrels for 6 months, Prospero Reposado has a gold tone and a flavor
with rich round notes of vanilla, white flowers, and lingering spice.
Pour $9

REVEL AVILA AÑEJO 
Tequila • 48% • Jalisco, Mexico
Revel Spirit's mission is to deliver the finest organic spirits available utilizing fairtrade and sustainable farming practices. This tequila is aged 24 months in French
Oak barrels. Extra smooth and triple distilled.
Pour $37

REVEL AVILA BLANCO 
Tequila • 40% • Jalisco, Mexico
Revel Spirit's mission is to deliver the finest organic spirits available utilizing fairtrade and sustainable farming practices. Bottled at 80 proof, this tequila is extra
smooth and triple distilled.
Pour $15

REVEL AVILIA REPOSADO 
Tequila • 40% • Jalisco, Mexico
Revel Spirit's mission is to deliver the finest organic spirits available utilizing fairtrade and sustainable farming practices. This tequila is aged 12 months in American
Oak Barrels. Extra smooth and triple distilled.
Pour $18

SANTO FINO BLANCO 
Tequila • 40% • Jalisco, Mexico
Santo Fino Blanco Tequila is described as an "old world-style" Tequila and is made
with 100% blue weber agave from Sammy Hagar & Guy Fieri.
Pour $12

SIETE LEGUAS AÑEJO 
Tequila • 40% • Jalisco, Mexico
Great luminosity of yellow hues with full-bodied golden reflections. Subtle scents of
slowly-cooked agave mingle with delicate oak notes in the full aroma of its maturity
after 24 months of loving care.
Pour $17

SIETE LEGUAS BLANCO 
Tequila • 40% • New Orleans, LA
Brilliant, luminous silvery hues; a powerful body. Enjoy the nuances of perfect
distillation, leaving a trail of subtle aromas which build up to the final permanence
of slowly-cooked agave.
Pour $14

SIETE LEGUAS REPOSADO 
Tequila • 40% • Jalisco, Mexico
100% pure agave. Made with the tahona wheel method.
Pour $16

SOTOL POR SIEMPRE 
Tequila • 45% • Chihuahua, Mexico
Sotol is a spirit made from a variety of plant in the Dasylirion family, native to the
Sonoran and Chihuahuan deserts, as well as the American southwest. Sotol Por
Siempre is made from 100% wild-harvested sotol plants. It has notes of black
pepper spice, earth, mineral, and wet stone.
Pour $9

TANTEO BLANCO
Tequila • 42.5% • Jalisco, Mexico
Excellent balance from front to back, and wholly worthwhile as a solo sipper or a
margarita base.
Pour $11

TANTEO JALAPENO TEQUILA 
Tequila • 40% • Jalisco, Mexico
Mexico- Made from 100% agave and infused with fresh jalapenos. The herbal
characteristics of agave are complimented by the mild spice of the jalapeno to
create for a well balanced creation. Jalapeno aroma is delicate to the nose and
mouth, but enough to add spice to any cocktail.
Pour $11

TEARS OF LLORONA NO. 3 EXTRA AÑEJO 
Tequila • 43% • Jalisco, Mexico
This extra añejo tequila, which was called "a sipping tequila of the highest order" by
Men's Journal, was aged in a combination of former Scotch, Sherry and Cognac
casks for nearly five years
Pour $48

TEQUILA OCHO ANEJO
Añejo • 40% • Mexico
Aged in ex-American Whiskey barrels for one year Made with 100%
Blue Agave.
Pour $17

TEQUILA OCHO PLATA
Tequila • 40% • Mexico
Unaged and honors the noble agaves of Arandas and the Camarena
"Ranchos" through intense, lively and clean flavors Made with 100%
Blue Agave.
Pour $13

TEQUILA OCHO REPOSADO
Reposado • 40% • Mexico
Aged in ex-American Whiskey barrels for 8 weeks and 8 days. Made
with 100% Blue Agave.
Pour $16

TEREMANA BLANCO
Tequila • 40% • Jalisco, Mexico
Notes of bright citrus with a smooth, fresh finish.
Pour $10

TEREMANA REPOSADO
Tequila • 40% • Jalisco, Mexico
Notes of oak and vanilla with a smooth, rich finish.
Pour $11

TOSCO AÑEJO
Tequila • 40% • Jalisco, Mexico
Hailing from the town of Tequila in Jalisco, Mexico, Tosco Tequila is a product of
heritage, tradition, and experience. This premium tequila is aged 25 months in white
oak barrels.
Pour $11

TOSCO AÑEJO CRISTALINO 
Tequila • 40% • Jalisco, Mexico
Tosco Anejo Cristalino Tequila is made from 100% agave. It is aged in American oak
barrels for over a year, but the color is removed via activated carbon filtration.
Pour $12

TOSCO REPOSADO
Tequila • 40% • Jalisco, Mexico
Hailing from the town of Tequila in Jalisco, Mexico, Tosco Tequila is a product of
heritage, tradition, and experience. Aged 11 months in white oak barrels, Tosco
Tequila Reposado is a premium tequila created from a slow process.
Pour $10

TOSCO SILVER
Tequila • 40% • Jalisco, Mexico
Hailing from the town of Tequila in Jalisco, Mexico, Tosco Tequila is a product of
heritage, tradition, and experience. Through a slow process using 100% agave,
Tosco Tequila Silver yields a clean and smooth tequila.
Pour $9

TRES AGAVES AÑEJO 
Añejo • 40% • Mexico
Aged in fine oak barrels for eighteen months, imparting a deep natural color and
robust, full flavor. Retains its essential agave flavors while embracing the oak
influences.
Pour $12

TRES AGAVES BLANCO 
Tequila • 40% • Mexico 
Pour $8

TRES AGAVES REPOSADO 
Reposado • 40% • Mexico 
Pour $10

VILLA ONE AÑEJO 
Añejo • 40% • New York, NY 
Pour $15

VILLA ONE REPOSADO 
Reposado • 40% • New York, NY 
Pour $12

VILLA ONE SILVER 
Tequila • 40% • New York, NY 
Pour $11

VOLCÁN DE MI TIERRA BLANCO 
Tequila • 40% • Jalisco, Mexico
Volcán De Mi Tierra Blanco is produced by Master Distiller Anna Maria Romero
Mena who uses a blend of Los Altos (Highland) and Tequila Valley (Lowlands) agave
for the tequila. Meaning "Land of the Volcano", this tequila is a joint venture
between Moët Hennessey and the Gallardo family.
Pour $11

VOLCÁN DE MI TIERRA CRISTALINO AÑEJO 
Tequila • 40% • Jalisco, Mexico
Built on a spirit of entrepreneurship, Volcán de mi Tierra (Volcano of my land) pays
homage to and is named after a real volcano that sits in the lowlands of Jalisco,
Mexico, "Volcán de Tequila".
Pour $16

WONDERTEQ ARENA AÑEJO
Tequila • 40% • Jalisco, Mexico
Aged for 16 months in whiskey barrels. One of the most famous and
colorful traditions of Mexico around the world is wrestling, a passion
that United States and Mexico share.
Pour $23

WONDERTEQ GRAND SLAM REPOSADO 
Tequila • 40% • Jalisco, Mexico
Aged for 8 months in whiskey barrels. A tribute to baseball season, this amazing
baseball bat shaped bottle has been trademarked in the U.S. The bottle is produced
in Tonala, Jalisco. The home plate is 100% hand made using real wood that comes
from the state of Michoacan.
Pour $17